I love our pediatrician, Dr. Bullard. He works at a group practice called Pediatric Associates in Weston, but we actually met with two other doctors before him when my oldest son was born. I remember his first official visit there after the hospital. I was a nervous first-time mom who was still recovering from my emergency c-section. We had decided to try one of the female physicians and she had asked if there was anything in our family history that she should know about. I mentioned one or two things and then added the fact that I am on disability for mental health issues. She whipped her head around to me and asked what kind, so I answered depression and anxiety. I went on to assure her that I had not been on any meds while pregnant.
She seemed to blow that off and I felt her next question like a gun shot, "But how are you now? Are you sure you can be a good mom?"
I obediently answered as the tears welled up in my eyes that I was fine. I had a great husband and wonderfully supportive parents who lived less than 20 minutes away. I further explained that I was already back on Zoloft since before I left the hospital.
Needless to say, it was the last time she has seen my son or any other of my children. I had heard so many great things about Pediatric Associates that I went back twice more to find happiness with Dr. Bullard. He always handled my tears that came from a combination of Mommy Coma and the anxiety disorder. He never once questioned or judged me. Unfortunately I am sad to share, he is unusual in his field with that.
Because it had been a complicated pregnancy, I had to see several doctors personally after that incident. I learned that same above lesson each time. I was always honest and disclosed my mental health history along with any meds I may or may not have been on. I had to grow used everything from colds to rashes being dismissed as stress. I was told by one doc after an unusual heart EKG that "this is typical for people like you" and when I asked what type that was, he left the room. I was brave enough to ask again before I left and never did get an answer.
Over the last 12 years, I've tried a few more times with different doctors when there was no other choice. Once I brought my husband to a new appointment. The doctor looked at my chart and asked me if the Wellbutrin and Xanax were working. I responded jokingly, "As little as anything else has." He then proceeded to only speak to my husband for the rest of our time there — about me.
My anxiety over going to any doctor's office has risen so much that I don't even try without taking an anti-anxiety pill and odds are that I still cry during the exam in my fight to control the panic, overwhelming shame and need to flee.
These automatic assumptions about me don't stop at the doctor offices. In my day to day offline life, once it becomes known that my depression is bad enough to be on full disability for it, people treat me a little differently.
Maybe they think all *Crazy* is the same.
Perhaps they have known a *Crazy* in their life that was unkind.
So they don't want to risk having someone like me in their life.
It's funny in a sad way because the worst I could do to them is cry in front of them and then refuse to see them for weeks at a time.
What's different about me doesn't show on the outside. On the outside, I look like a lot of other white, suburban mothers running errands with three kids in tow.
What does show on the outside is a bump on the bridge of my nose. It's partly German heritage and partly cartilage that grew out of place because of now-removed adenoids. I didn't know to be ashamed of it until I was 12 and one of the neighborhood boys called me "Nigger Nose". Looking back as an adult, I am guessing he hadn't met very many black people in his life. I didn't know what the word meant back then though. All I knew was that it was obviously something really bad. It was said often enough that I began to feel so ugly over my nose and begged my parents for a decade  to have it fixed. I'm glad they never gave in.
The other assumption that people make now that I am an adult is that I am part of the Jewish faith. I remember being part of a playgroup and receiving a silver star ornament frame during our Christmas exchange. I thought it was very pretty and then she said, "Is that all right? You probably don't have a tree to hang it on but you'll find a place for it, won't you?"
I cluelessly asked, "Why wouldn't I have a tree?"
"Well, you are Jewish, aren't you?"
Not that it mattered, but I corrected her that I was Christian (at that time). Boy, it was almost comical how her entire attitude about me changed. She had always kept herself a little apart from me during our play dates and I just assumed that I merely wasn't her cup of tea (my *Crazy* being still a secret at this point). No, it was a distinct bigotry against that religion because she acted so chummy after that. She actually called a few times for a private get-together, but for some reason, that never worked out.
She wasn't the only one to make that mistake and for me to see a change after correction, but she was the most obvious.
The prejudice that I face after people find out about my *Crazy* does hurt the most though. And I keep telling myself:
Maybe they think all *Crazy* is the same.
Maybe they have known a *Crazy* in their life that was unkind.
So they don't want to risk having someone like me in their life.
So when I am asked why do you care so much about racial bigotry or why haven't I spoken up more about what happened with Trayvon Martin, I am torn.
I have absolutely no idea how someone could judge anyone based on something beyond their control. I care though. I have always cared even before I could truly relate to it in some small way.
I haven't spoken up about what happened with Trayvon Martin because I wasn't there. I did not watch the trial. I've seen the FB meme and yes, it would have been nice if Zimmerman had offered him a ride home in the rain. It would have been great if Zimmerman had stayed in his car like instructed to by the police. I wish that this 17 year old kid had used his cell phone to call the police, but I am hard pressed to blame him for standing up for himself. I hate that he threw the first punch.
And I think you are an idiot if you believe that a special kind of bigotry did not play a part in this. If it was a black girl, this probably would not have happened. If this was a white boy, this probably wouldn't have happened. If this was a white girl, Zimmerman would never have paid attention at all.
My personal message to black men is I am never afraid of you because of the color of your skin. I AM afraid of people in general, especially men. I got touched inappropriately when I was young and was abused as a teenager. All the wrong done to me was done by white boys though and I don't blame the color of their skin on it. I was stalked for almost 9 months by a black man who followed me home from the grocery store, but he never touched me and only hurt me mentally and I don't blame the color of his skin for it. I have never clutched my purse tighter because you are near me, but please understand that any anxiety you may pick up on comes from my past. And to really be honest … if I am uneasy and alone in a crowd, odds are that I will edge closer to YOU because through my life experiences, that's where I am safer.
I only have a small inkling what people of color go through every single day of their lives. I wanted to add my voice of support and empathy to keep the conversation going. I believe that only through conversation will this get better. Eventually people will find their own small ways that they can relate and see life through someone else's eyes.
There are so many more people who speak not only with more eloquence but also with more right to do so than I.
Kelly Wickham's words inspired me to hope my words could somehow help.
Questlove, the bandleader for Jimmy Fallon's show broke my heart when he shared what life is like for him.
Jessica Gottlieb Can't Stop Talking About Race.
I voted for our President both times, but he lost me as a supporter with his ties to Monsanto. Despite that, I thought what he said yesterday was wonderful.
Jennifer P. Williams asks What Can I Do?
Jackie Summers talks about The Luxury of Invisible Privilege.
Rita Arens is speaks from her white lady heart.
Creating Motherhood shares her grief.
And Carolyn Edgar made me cry as she shared her fears as a mother.
I am linking up with yeahwrite.me and their Weekend Moonshine Grid. Go take a peek when you have a chance.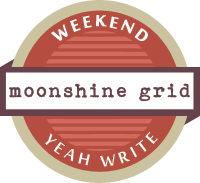 xoxo ~ Melissa